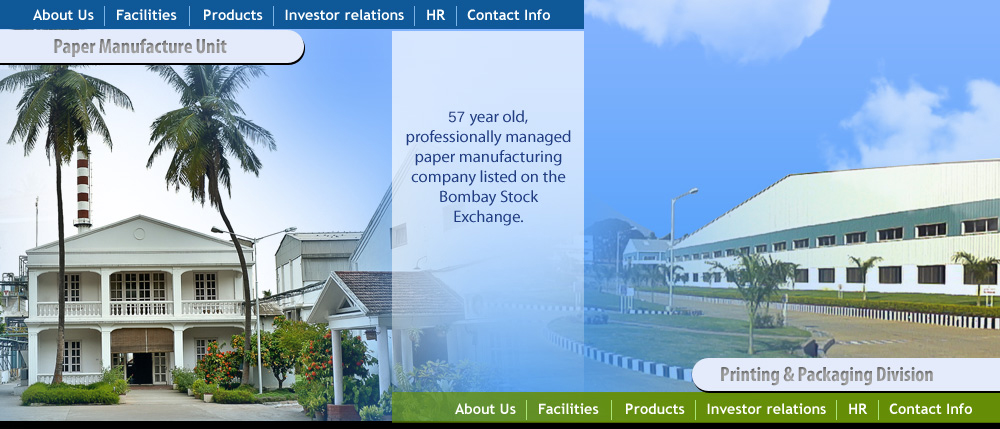 About THE SOUTH INDIA PAPER MILL LIMITED
Both Paper Manufacturing Unit and Packing Divisions are aimed at bringing the company closer to it end consumer industries and delivering a quality product consistently by implementing an organised quality assurance system. The company's future investments will be oriented to delivering quality packaging fully integrated with logistics support to the plants of its key customers at multiple geographic locations in the country.
The paper plant is located 150 km from Bangalore near Nanjangud in Karnataka state. The current capacity is about 200 MT/day.
The manufacturing process is based on the recycling of scrap paper both imported and domestic. Some purchased pulp is also used. Paper is manufactured on three paper machines of capacity 45TPD (1.83m wide), 50 TPD (2.55m wide) and 115 TPD (2.88m wide). The plant is fully supported by a 7.5 MW biomass based Cogeneration Power Plant. About 1.5 to 2.0 MW of excess electricity is exported to the state grid.
The plant is well connected to the major industrial areas in the southern peninsula by NH 212 (to be 4 laned shortly) and the Bangalore- Mysore 4 lane State Highway. Read More...
The market for corrugated packaging is characterized by an extreme fragmentation of capacities. The level of investment, processing technology, product quality and productivity are also very low by international standards.
Recognizing the limitations of this industry structure in an increasingly demanding environment in terms of quality, delivery lead time and volume, the Government recently amended the Industrial Development Act to remove the manufacture of corrugated fiber containers from the list of products reserved for exclusive manufacture by Small Scale Industries. Read More...